Who are Token Intelligence?
When we present you to new investors we want you to shine!
It is Token Intelligence's mission to enable great ICOs to achieve greater traction for their innovation through clarity of communication and demonstrating transparency.
Greater transparency means faster, stronger connections with investors.
Founders and their teams are inevitably immersed in their own complex world of innovation which makes it extraordinarily difficult to articulate the meaning and importance of their venture to investors and those outside their circle.
Good founders and good ICOs work hard to achieve clarity and demonstrate transparency - we are here to help them, bringing deep experience amplified by technology to enable greater clarity and exposure.
Red Flags
We're here to help the good ICO thrive - and help get rid of the scams that make us all look bad. See http://TokenIntelligence.io/redflagsvideo.
Barry James and his team (who also founded The Crowdfunding Center) collectively have more than half a century's experience assessing and nurturing campaigns, entrepreneurs and business ventures of all kinds.
Our evidence based, data driven, approach has amassed a data mountain tracking 600,000 campaigns and we've harnessed this to help raise around $200Million from more than a million backers.
We've captured and we analyse the data on the vast majority of ICOs and similarly provide support, data, evidence and tools to all participants in the Token Economy.
Barry is an internationally respected author and fintech thought leader. An advisor to the British Blockchain Association on Startups and ICOs, and a weekly contributor to CityAM's Crypto Insider section via sister site ICOrad.io.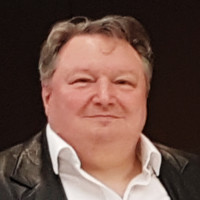 Founder & CEO
Barry E James
Author, Advisor, Speaker. ICOrad.io host. Patent+award winning technologist, #Blockchain, #ICO + Business champion.
Barry, innovator and instigator of the regulatory 'Innovation Unit' - so also the 'Sandbox', first at the UK's FCA & now across the world - is a visionary author and sought after advisor on, Blockchain, ICOs, Fintech, Funding & Finance with a diverse background including Technology, Psychology and Entrepreneurship. He has been consulted by and advised numerous ICO and crowdfunds as well as the FT, The Times, Reuters and the BBC and writes regularly for Real Business, Crowdfund Insider, Business Zone and The Bankless Times. He is author of New Routes to Funding, the handbook of modern funding.

A pioneer advancing the forefront internationally with new data and insights & providing leadership in #ICO #Fintech #Blockchain #RegTech & #Crowdfunding. Including successfully arguing for a new approach to financial innovation by UK government & regulator and the creation of the first regulatory innovation unit '"Project Innovate" in the UK''s FCA. Now emulated around the world.
A scientist and psychologist by training and technologist & entrepreneur by professional background Barry has a history of trailblazing. He writes principally on entrepreneurship Fintech & ICOs, Blockchain, Crowdfunding & The Token Economy.
A Visiting Fellow at The University of Portsmouth Business School he's an internationally respected innovator & researcher and works with a range of UK & US Universities on Crowdfunding & entrepreneurship research, speaking & teaching on these subjects including conferences in Calgary, Mumbai, Los Angeles, Silicon Valley, Auckland, New Zealand & France's first FinTech conference.
Pro-bono work includes co-chairing and heading the secretariat for the UK All-Party-Parliamentary-Group on Crowdfunding & Non-Bank Finance.
He created & chairs Crowdfunding:Deep Impact, the UK's first annual conference on the subject & founded TheCrowdDataCenter & TheCrowdfundingCenter.
Find out more and get Barry's book 'New Routes To Funding' at NewRoutesToFunding.com